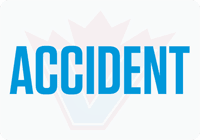 BURNABY RCMP are asking for witnesses to a serious motor vehicle collision that has resulted in two fatalities. Burnaby RCMP's Criminal Collision Investigation Team is investigating the collision.
On Wednesday at 5:20 p.m., Burnaby RCMP frontline officers responded to a report of a two-vehicle collision at Duthie Avenue and Montecito Drive. Two people have died as a result of this collision. There were no other injuries.
"The investigation is in its early stages and we are trying to piece together what occurred," said Cpl. Mike Kalanj. "If you witnessed the incident or have dashcam video of the incident, please come forward and speak to our investigators."
Police are requesting anyone who witnessed this collision or may have dashcam video in the area between 5 and 5:30 p.m., to contact the Burnaby RCMP at 604-646-9999.