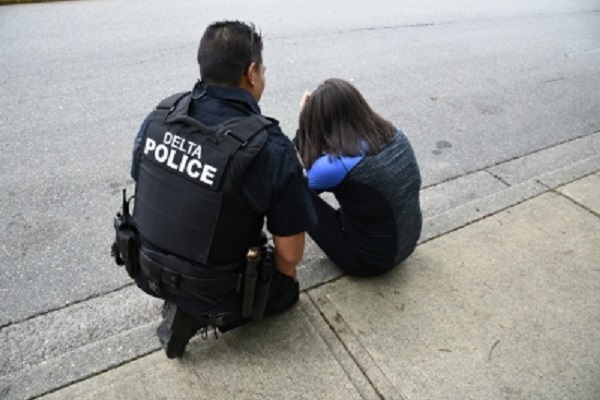 A Delta man dealing with addiction issues has been charged with assault after an incident in that took place in Delta in early November.
Delta Police say they don't often share information about relationship violence incidents, also known as domestic or family violence, due to privacy issues. However, they have been updating the police board and community that Delta Police are receiving an increase in reports of offences such as assault and robbery, called persons offences. The majority of those offences happen between people known to each other, some of which are deemed relationship violence incidents.
Other examples of assaults alleged to have taken place this month include a man being investigated for choking his girlfriend, causing her to fear for her life. And a third incident involved threats being made against a loss prevention officer. These unfortunately, are typical of the type of complaints being investigated by police.
In the first incident, the parents tried to intervene in the case of their son, who suffers from alcohol and cannabis addiction problems. The intervention wasn't well received, and the son allegedly threw his mother to the ground, grabbed a weapon and left the home.
Police located the man shortly thereafter, and he was arrested without incident. He now faces a charge of assault. Police will not be releasing the man's name, in order to protect the privacy of his family.
"Really, what it comes down to is that everyone deserves to be safe in their home," says Constable Ben Whitehead of Delta Police's Domestic Violence Unit. "A happy and safe home is the bedrock of a safe community. We want people in Delta to be aware that allegations of intimate partner violence, threats or harassment will be treated seriously and thoroughly investigated. We want those people who have suffered abuse to come forward so we can help them take back their lives, for the sake of their future and their children's futures. They deserve better."
Delta Police have recently updated information available on the department website on relationship violence. Resources include counselling information, transition houses and legal assistance. There are also safety planning and steps, definitions of what abuse is, a diagram on the cycle of violence, and warning signs for friends and family.
Police also wish to reach those on the other end of the equation, who struggle with anger and perhaps addiction issues, and are concerned they could become abusers. Watch for the website to be updated with this information in the coming weeks.
If you or someone you know may need assistance in dealing with relationship violence, call Delta Police at 604-946-4411 and ask for the Domestic Violence Unit, or DPD Victim Services at 604-940-5019. In an emergency, or when a crime is in progress, call 9-1-1.