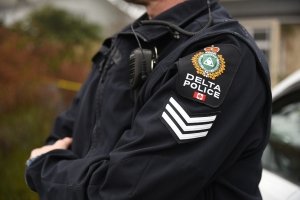 A man is in custody after Delta Police were asked to assist RCMP on Wednesday afternoon in regard to a vehicle traveling southbound through the Massey Tunnel that may have been involved in one or more collisions in Richmond.
Delta Police were not able to locate the vehicle at the tunnel, but shortly thereafter received a 9-1-1 call about a vehicle being driven erratically on Arthur Drive in Ladner.
A Delta Police officer spotted what was believed to be the vehicle in question on 56th Street, heading south to Highway 17. The vehicle was observed to briefly attempt to travel the wrong way on Highway 17, and was abandoned in the intersection.
The officer then arrested a man in a field by Highway 17 and 56th Street.
"This is an active investigation, but at this point, Delta Police have no reports of damage or injuries related to this matter within Delta," says Cris Leykauf, spokesperson for Delta Police. She notes she is unable to confirm details of what may have occurred in other jurisdictions.
If anyone has any further information about this incident in Delta, they are asked to call police at 604-946-4411 and quote file 19-17638.