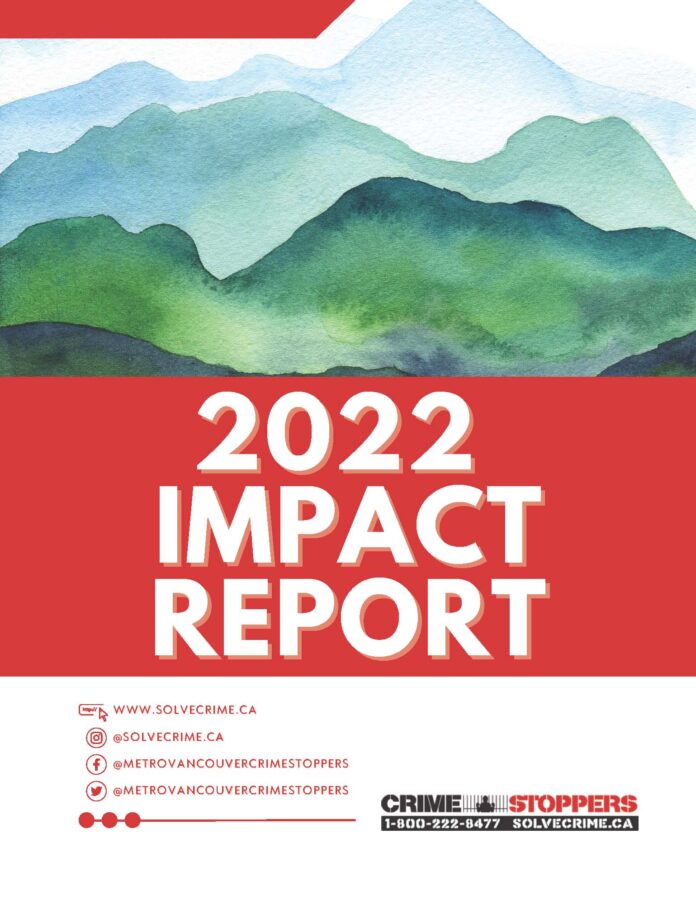 MORE than 500 anonymous tips about gang activities and illegal weapons were among the more than 4,000 tips given anonymously to Metro Vancouver Crime Stoppers in 2022, according to its latest statistics.
"Drugs, weapons and stolen property were seized, and arrests were made, all based on tip information received by Crime Stoppers anonymously last year. Without those tips, these crimes might never have been solved," said Linda Annis, Executive Director of Metro Vancouver Crime Stoppers.
"We accept anonymous tips 24/7 and in 115 languages regarding any crime. We don't want to know your identity or where you're from, we just want information that can help police to solve crimes, and it really works. We urge anyone with information on any crime to call us anonymously at Crime Stoppers. Together, we can help police and other authorities make more arrests, and even save lives."
Anyone with information can contact Crime Stoppers anonymously at 1-800-222-TIPS, through the "P3" Crime Stoppers app, online at solvecrime.ca or through Metro Vancouver Crime Stoppers' Facebook page. 
Statistics for 2022 published by Metro Vancouver Crime Stoppers in its annual Impact Report:
Information from tips received last year resulted in:
* property and illicit drugs seized: $1.4 million
* number of arrests: 73
* charges laid: 102
* total number of tips in 2022 – all crimes: 4,068
Some of the tips received were specifically about gangs and/or illegal weapons:
Total tips about gang activity and illegal guns: 556
Number of illegal weapons seized: 13
Charges laid for gang activity: 52
Since the inception of Metro Vancouver Crime Stoppers 39 years ago, more than 8,400 arrests have been made, and half-a-billion dollars in property and drugs have been recovered.