Plurality of Ontarians opposed to proposed Highway 413
WITH barely three weeks to go until Ontarians go to the polls, what was looking to be a runaway election has turned into a horserace.
A week ago, the Progressive Conservative Party of Ontario enjoyed a 14-point lead over the (barely) second-place Liberals and a prospect of a second PC majority seemed to be a sure thing.
Fast forward to today, however, and the party's lead has shrunk to less than five points – a clear lead, but insufficient for a majority.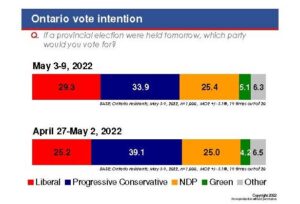 Regionally, the PCs do well across the province, though they fare particularly well in Eastern Ontario.
Liberal support, meanwhile, is concentrated in the Greater Toronto Area.
NDP support is spread evenly throughout the province.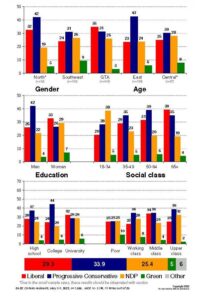 The underlying demographic patterns reveal a massive gender gap. If voting were restricted to men, the PCs would utterly sweep the province in a landslide victory. If it were restricted to women, the PCs would be relegated to third place.
Liberal support rises progressively with age, while NDP support declines with age.
The PCs do extremely well with the college educated, but lag behind the Liberals among university graduates.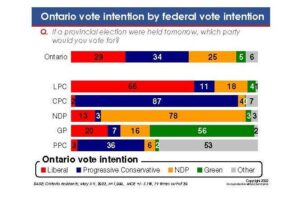 The PCs are the most efficient when it comes to carrying over support from their federal counterparts. Among supporters of the Conservative Party of Canada, fully 87% intend to vote PC in the upcoming election.
The Ontario NDP enjoys the support of 78% of its federal members, while the Ontario Liberals have carried over just 66% of the federal Liberal vote.
Among People's Party voters, just one-third support the PCs, while the remainder have turned to alternative options such as the New Blue Party or the Ontario Party.