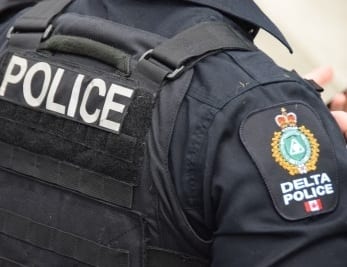 A timely report of a theft from a Tsawwassen home, and great updates by witnesses allowed Delta police to nab a suspect within a half an hour of police being dispatched to the scene, say Delta Police.
Police were dispatched at 12:50 p.m. on Tuesday to the theft of a bicycle that had just occurred on Wilmington Drive. Police were told that a resident saw a male walk into a neighbour's open garage, grab a bicycle and then leave. Detailed descriptions of the suspect were provided to police.
Police officers began immediately checking parking lots and side streets. The bike owner then received a phone call from a neighbour who observed the suspect on the missing bike in the area of 12th Avenue and 56th Street. Police immediately headed there. In the meantime the suspect dumped the bike and fled on foot.
The neighbour then updated the police as to the suspect's possible location. Police flooded the area, and soon spotted a male running through traffic who matched the description of the suspect.
A Delta Police officer driving an unmarked car managed to intercept the male and arrest him at 1:13 p.m. for break and enter, and theft. The suspect was cooperative, and identified as a Delta resident. Charges are pending.
"We wanted to bring this incident to the attention of the public, to underscore the importance of timely reporting, and providing a good description of a suspect, and direction of travel," said Cris Leykauf, public affairs coordinator for Delta Police. "Property crime is one of the top issues in our community, and our officers take these reports seriously. This is a good example of the valuable relationship Delta Police has with the community. Our residents provided great information, and we brought multiple officers quickly to the area. The result – a timely arrest of the suspect."