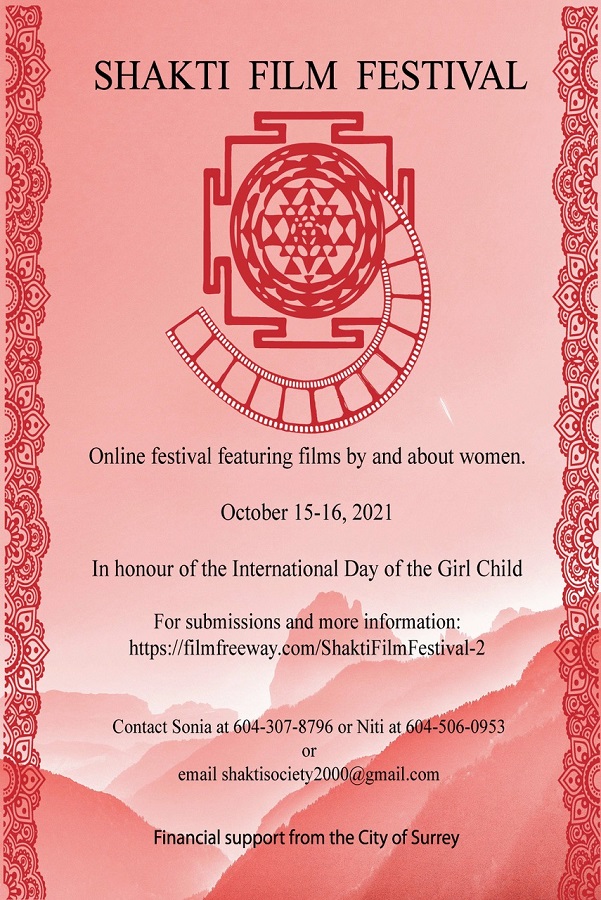 THE Shakti Film Festival is Shakti Society's latest undertaking in its mission to increase and acknowledge women's contribution to society and their representation in film.
Shakti Society has addressed the influence of media and films on violence against women and will be focussing and promoting films that showcase women in strong roles as well as filmmakers who are often marginalized due to various barriers, like race, colour, fi­nances, language, disability, sexual orientation and various health issues, including mental health.
October 15, 7 p.m.
Short Films: Namrata by Shazia Javed
All Kinds of Weather by Ragini Kapil
Feature: The Divine Order by Petra Biondina Volpe
Panel discussion with filmmakers and artists
October 16, 7 p.m.
Short Films: Breakaway by Jenny Lee-GilmoreAll Kinds of Weather by Ragini Kapil
Feature: Good Morning Kandahar by Ariel Nasr.
Panel discussion with filmmakers and artists
Tickets are available now for the online Shakti Film Festival.
We are less than two weeks away from our Second Annual Shakti Film Festival! Join us online for two evenings of thought provoking, enchanting and entertaining films supporting women filmmakers from around the world.
The main feature is 'The Divine Order'. a "comédie humaine" about fear of change and the fight for equality. Screenwriter and director Petra Volpe ("Dreamland", screenplay for "Heidi") takes viewers on an emotional journey to the rural Switzerland of the 1970's and creates a monument to all the people who fought for equal political rights. "The Divine Order" thereby makes astonishing connections to current political and social debates.
The second film, "Good Morning Kandahar," is a documentary film that introduces us to young Afghan-Canadians torn between a deep desire to help Afghanistan and a fear that things will never change. Good Morning Kandahar, set in 2008 remains relevant today as it asks whether Canada's mission in Afghanistan is failing.
For the short series, the festival will be featuring two short films by local directors. The first, "All Kinds of Weather', directed by Ragini Kapil, focuses on a young South Asian Canadian woman, caught in an abusive marriage, who is shocked when she unexpectedly runs into the love of her life. Her memories of their innocent love and the unhappy outcome changes her and leads to an unexpected outcome.
"Breakaway", the second short film, is by Jenny Lee-Gilmore. Set in 1970's Vancouver, Canada, Breakaway follows 11-year-old Sammy, an ice hockey obsessed Chinese Canadi­an girl. She has dreams of one day playing ice hockey but her responsibilities at home and bullying older brother get in the way.
Laslty, 'Namrata', This short documentary made by, Shazia Javed, tells the intensely per­sonal story of Namrata Gill – one of the many real-life inspirations for Deepa Mehta's Heav­en on Earth – in her own words. After six years, Gill courageously leaves an abusive rela­tionship and launches a surprising new career.
Tickets: $15 for Festival Pass – admission to both days. $10 for one day admission.
https://filmfreeway.com/ShaktiFilmFestival-2/tickets
For more information or sponsorship enquiries, contact Sonia at 604-307-8796 Or Niti at 604-506-0953 or email shaktisociety2000@gmail.com.