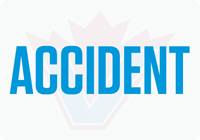 SURREY RCMP are currently on scene investigating a single vehicle collision in the area of 152 Street and 62A Avenue.
On Wednesday at approximately 6:30 a.m., police responded to a report of a single vehicle collision into a power pole at the intersection of 152 Street and 62A Avenue. The vehicle was travelling northbound on 152 Street when the driver lost control and struck a power pole, severely damaging it.
The 30-year-old male driver of the white SUV was transported to a local area hospital with minor injuries.
Traffic will be shut down on the 152 street corridor, from 60 Avenue to 64 Avenue for several hours as BC Hydro assesses the damage and mitigates the hazard of the downed pole. Motorists are asked to avoid the area and find another route for their morning commute.
The exact cause of the collision is still under investigation but initial indications are that it is not criminal in nature, police said.
Anyone with more information, including dash cam footage around the area of 152 Street between 6:20 a.m. and 6:40 a.m. is asked to contact the Surrey RCMP at 604-599-0502 and quote file# 2023-82734
If you wish to make an anonymous report, you are asked to contact Crime Stoppers at 1-800-222-TIPS or www.solvecrime.ca.