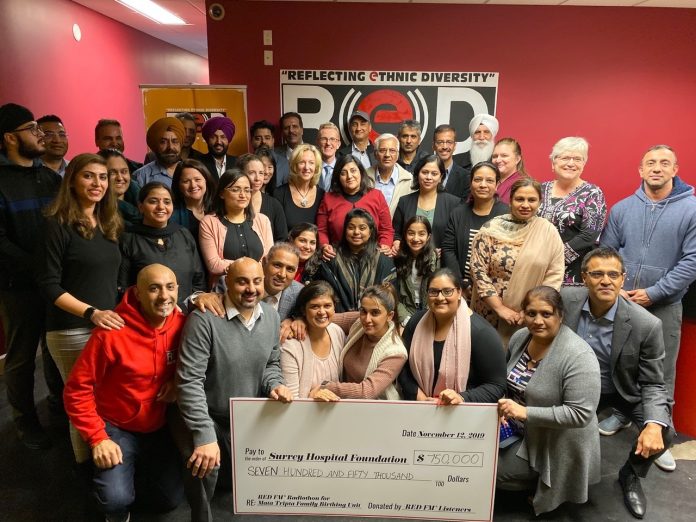 ON November 12, from 6 a.m. to 10 p.m., members of the Lower Mainland's South Asian community donated over $790,000 during the 13th Annual Gurpurab Radiothon hosted by RED FM. One hundred per cent of the donations were made to the Surrey Hospital Foundation, in support of the Mata Tripta Family Birthing Unit.
The annual Gurpurab Radiothon was held during celebrations of the 550th anniversary of the birth of Guru Nanak, founder of the Sikh faith. The Sikh community celebrated this occasion with their donations. This year's goal was to raise $550,000 to support the Mata Tripta Family Birthing Unit, previously named by the community after a successful radiothon in 2012. Since that time, over 35,000 babies have been born at Surrey Memorial Hospital and equipment replacement and upgrades are required.
RED FM organized the Radiothon and donated the airtime. Over 2,000 people visited the RED FM studios; others made contributions by phone, or online.
"We are humbled at the generosity of the South Asian community on the occasion of Guru Nanak's 550th birthday celebrations," said Jane Adams, President and CEO, Surrey Hospital Foundation. "Our team was thrilled to meet thousands of community members visiting the RED FM studios to make their generous donations in person. Hundreds of volunteers were taking phone calls, preparing food and processing donations. Your donations will have a direct impact on thousands of babies and families starting their life journey together at Surrey Memorial. On behalf of them, the staff in the Mata Tripta Family Birthing Unit and our Foundation team, a heartfelt thank you."
To donate to the Surrey Hospital Foundation, visit surreyhospitalfoundation.com/donate, or call 604-588-3371.