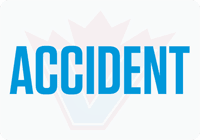 ON Sunday (February 2), at approximately 9:20 p.m., Surrey RCMP attended to a motor vehicle collision in which a pedestrian was struck. A 22-year-old female resident of Surrey was crossing the road mid-block and stepped out in front of southbound SurDel Taxi.
The female pedestrian received head injuries and was transported to hospital with non-life threatening injuries. The female pedestrian was viewing her cell phone when she stepped off the curb into the path of the cab.
The driver of the cab remained on the scene and is cooperating with police. Speed and alcohol are not factors in this collision. Pedestrian inattention is a contributing factor in this collision, police said.
Scott Road southbound was closed for a short time, but has since been reopened.
RCMP are seeking the public's assistance and are asking anyone who may have witnessed this collision or have dash-cam video of the incident are asked to call them at 604-599-0502 or CrimeStoppers in reference to Surrey File # 2019-017426.