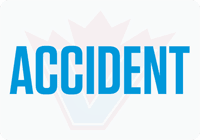 SURREY RCMP are advising the public of a hit and run collision and is looking for witnesses and video to assist in the investigation.
On Monday (October 1), around 8:45 p.m., the Surrey RCMP responded to the intersection of 68th Avenue and 132nd Street for a report of a hit and run collision. The 69-year-old female victim was riding an electric wheelchair, crossing in a marked crosswalk, when she was struck by a vehicle which was travelling southbound on 132nd Street.
She was transported to hospital in critical condition. The vehicle did not stop after the collision and left the scene. There is no suspect vehicle description available at this time.
Surrey RCMP's Criminal Collision Investigation Team has conduct of the investigation and is asking anyone who was a witness to this incident, who has not already been in contact with police, to contact them. Investigators are also canvassing the area for video and asking any members of the public who may have captured the incident on dash-cam to call the police.
Anyone with more information is asked to contact the Surrey RCMP at 604-599-0502. If you wish to make an anonymous report, contact Crime Stoppers at 1-800-222-TIPS or www.solvecrime.ca.
"This is the second serious collision in two days in Surrey involving an individual being struck by a vehicle," said Sgt. Chad Greig on Tuesday. "With the seasons changing, rainier weather happening and the sun setting sooner, it is a combined effort by both pedestrians and drivers to ensure theirs and others' safety. Don't be complacent, and remember to adjust your travelling habits accordingly on our roadways."
Prevention Tips for Pedestrians:
– Dress to be seen
– Make eye contact with driver before crossing
– Cross at designated crosswalks and watch the crosswalk signal lights
– Don't use electronic devices while crossing a road
Prevention Tips for Drivers:
– Posted speed limits are designed for ideal road conditions. Slow down when driving on snow, ice, slush or in rain.
– Allow yourself at least twice the normal braking distance on wet or slippery roads.
– Watch for pedestrians when approaching and stopping at intersections
– Make eye contact with the pedestrian who is going to use the crosswalk
For more prevention information on road safety, visit the Surrey RCMP's website.