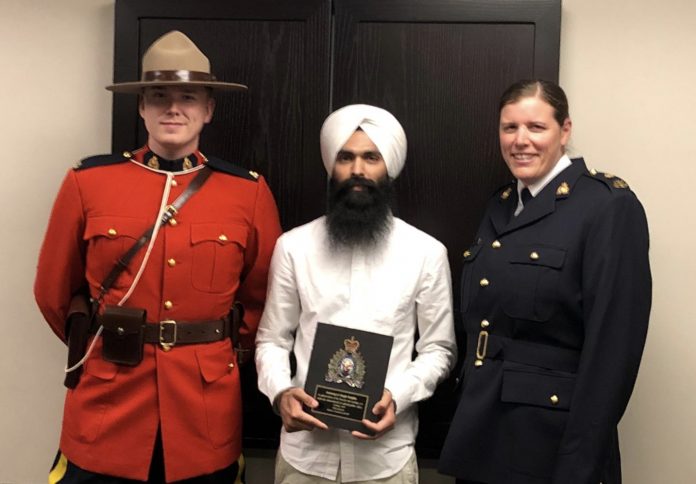 TAXI driver Jashan Singh Sangha, 25, was honoured by Whistler RCMP last week at a ceremony for coming to the aid of a stabbing victim earlier this year.
Sangha used his turban to apply it to a life-threatening wound to the victim's lower extremities to stop the bleeding and then rushed him to the local hospital in his taxi.
Whistler RCMP Staff-Sgt. Paul Hayes said: "Without hesitation Mr. Sangha came to the victim's aid. Without concern for himself, Mr. Sangha went above and beyond to assist this individual and showed great care and compassion for a member of our community. I am very appreciative of Mr. Sangha's actions that day."
On February 11 at about 2:30 a.m., there was a fight in the 4200-block of Village Square in Whistler in which three males were stabbed, one of whom received life-threatening injuries. RCMP officers quickly identified and arrested three male suspects in their early 20's who reside in the Lower Mainland and are known to police.
Jashan, who happened to be in the area, observed two males and a female in their 20's who appeared to be in a state of panic. He told The VOICE that he rolled down his window to inquire and heard the female informing someone on her cell phone that there had been a stabbing incident.
"So I got out of my cab and asked them about it," he said. They showed him the wound one of the males had sustained. "It was pretty big," he added.
Jashan immediately took off his turban and applied it to the wound in order to stem the bleeding. He said that he didn't know how long the police and ambulance would take to arrive there and the local hospital wasn't too far away. So he told them to get into his cab and he drove straight to the hospital. That helped save the victim's life.
Jashan, who came from India in December 2012 on a student visa, works for Squamish Taxi and lives in Squamish.
He is very proud of his parents. His father – Sardar Jagtar Singh Sangha – is a lecturer in the male wing of Guru Nanak National College in Punjab's Nakodar. His mother – Sardarni Sukhwinder Kaur Sangha – is the principal of the female wing of the same institution.
Now, his parents are very proud of him.