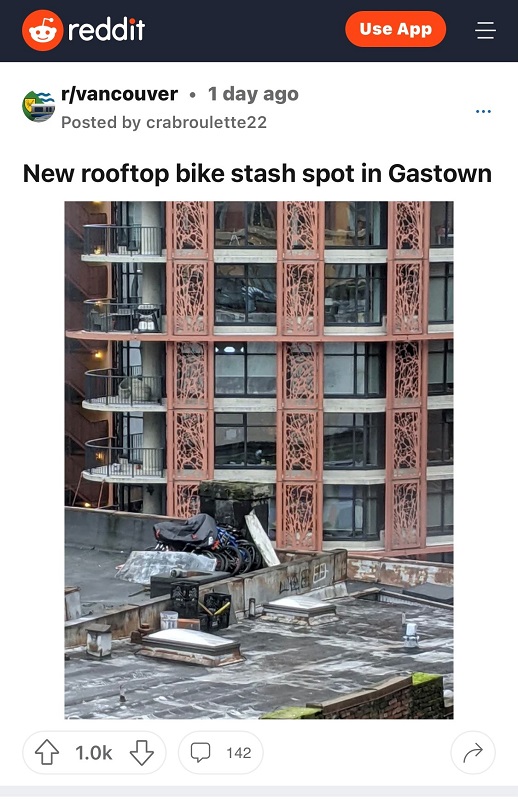 VANCOUVER Downtown Eastside beat officers seized $20,000 in stolen bikes from a rooftop stash spot last week, after getting tips that the hot property was being stored somewhere in Gastown.
"Officers in the Downtown Eastside rely on their strong community connections to solve crimes and keep people safe," said Sgt. Steve Addison. "Because people came forward to report suspicious activity, our officers were able to launch a criminal investigation and are now working on getting these bikes back to their owners."
Rumours of the bike stash began circulating last week after social media posts suggested someone was using a Gastown rooftop to store the stolen bikes. Officers began investigating, and quickly determined that the bikes were being lowered to the rooftop by rope from a neighbouring building. After getting several tips, they pinpointed the stash spot and moved in to seize nine bikes on November 22.
"We know how many people depend on their bikes for recreation and to move around the city, so we're working as fast as we can to get these bikes back to their rightful owners," said Addison, adding Giant, Cervelo, Santa Cruz, Trek, Rocky Mountain, and Reign mountain and road bikes were among those seized. "Even without a serial number, we can sometimes locate the rightful owners based on unique features on the bike, so anyone who's recently had their bike stolen should call police to file a police report. Our staff will contact you if we have your bike."
VPD encourages all bike owners to register their rides with Project 529 to help prevent theft and to increase the likelihood of getting their bikes back if they do get stolen.
Bike thefts can be reported online at vpd.ca, or by calling the non-emergency line at 604-717-3321.