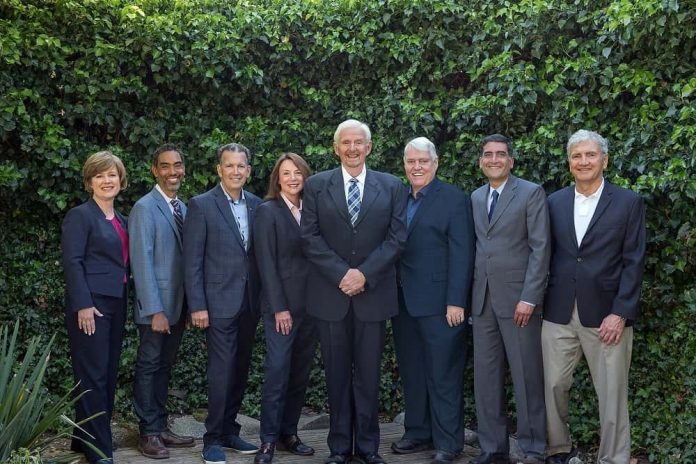 JIM Cessford, former Delta Police chief and mayoral candidate, on Tuesday introduced his slate of incumbent trustees and councillors as well as new candidates for Delta School Board and Delta City Council running under the "Independents Working For You" banner at a townhall meeting held at Harris Barn.
"I'm thrilled to be joined by such a diverse group of independent thinkers who are committed to providing leadership to make Delta a safe, healthy and happy community," said Cessford. "This election is about a choice on how we see the future of our community. Our team is committed to listening to Delta residents and businesses while addressing issues through actions that benefit all parts of our community."
Joining Cessford on the City Council team are eight-term Councillor Bruce McDonald, three-term Councillor Jeannie Kanakos and new candidates Sandeep Pandher and Garry Shearer.
And on Cessford's School Trustee team are three-term trustee and current Chairperson Laura Dixon, two-term trustee Nick Kanakos and new candidate Joe Muego.
"This fall, the Lower Mainland will see many changes around city council and school board tables," said Cessford. "Newly elected leaders will be seeking solutions to the many issues we all face and our independent team is ready to work for Delta.
Cessford says his priorities are to create a vision, set goals and develop a business plan so that everyone is aware of the plan and the costs associated.
He adds: "Community safety is a top priority. We are proud of all of our First Responders and our record of safety in Delta, but we must be ever-vigilant and mindful of maintaining the safety and security of our community.
"Keeping fiscally responsible budgeting in mind doesn't mean we have to go without amenities and services for our residents. We need to look at forming partnerships, be entrepreneurial and collaborate with other stakeholders to get things done with minimal costs to the community.
"We will streamline bureaucratic hurdles for those doing business in Delta. Delta must be open for business in the interests of local improvement, excellent employment opportunities and improved quality of life for all of our residents.
"Establish improved and constructive working relationships with School Board, Seniors Advisory committee, all levels of government, Mayor's council, neighboring municipalities, Translink and others. We will be prepared to work with any level of government in a collaborative manner and in the best interests of Delta."
The municipal election takes place on Saturday, October 20.