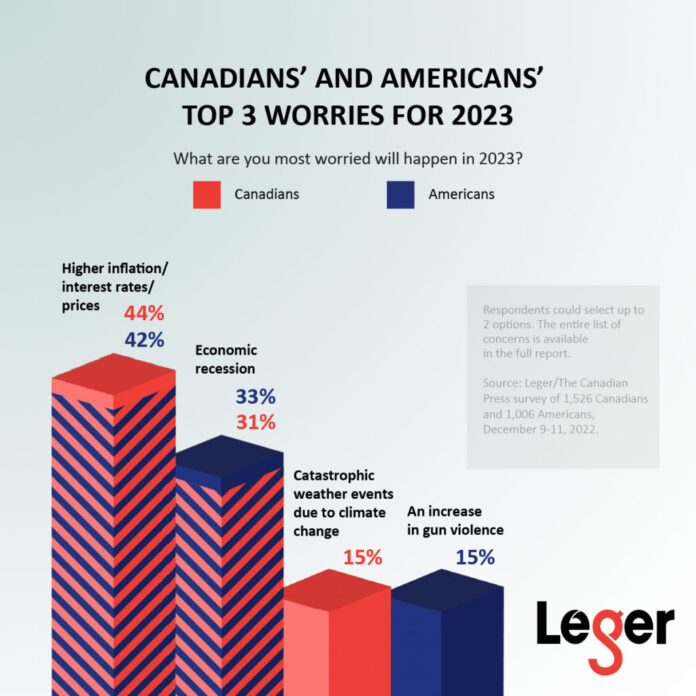 THE year 2021 was heavily impacted by the COVID-19 pandemic, while 2022 has been largely marked by economic concerns, including inflation, interest rate hikes and increasing prices.
With the year drawing to a close, Leger surveyed Canadians and Americans to explore whether they feel 2022 was better than 2021, and how they think 2023 will compare to 2022, revealing a tinge of optimism for the year ahead.
* 31% of Canadians and 28% of Americans felt 2022 was worse than 2021.
* Fewer Canadians (22%) and Americans (19%) think 2023 will be worse than 2022.
* Even when presented with a list of potential global challenges, Canadians and Americans are overwhelmingly most worried about higher inflation / interest rates / prices and economic recession in 2023.
* The greatest proportion of Canadians and Americans plan to spend the same amount as last holiday season on food, alcohol, entertainment, hosting and gifts. The exception is travel, on which the greatest proportion of Canadians plan to spend less.
This web survey was conducted from December 9 to 11, 2022, with 1,526 Canadians and 1,006 Americans, 18 years of age or older, randomly recruited from LEO's online panel.
A margin of error cannot be associated with a non-probability sample in a panel survey. For comparison, a probability sample of 1,526 respondents would have a margin of error of ±2.50%, 19 times out of 20, while a probability sample of 1,006 respondents would have a margin of error of ±3.09%, 19 times out of 20.