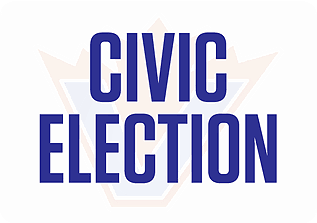 Updated: 9:49 p.m.
SAFE Surrey Coalition mayoral candidate Doug McCallum announced on Wednesday that his party will ban campaign signs from all public property in the next election.
"Several prominent Surrey campaign teams have erected hundreds and hundreds of illegally places signs at intersections. Signs are not allowed within 25 metres of an intersection. The wheelchair ramps at the crosswalks is where the 25 metres is measured from," he said.
McCallum noted: "This is a municipal regulation and the leaders of two campaigns Tom Gill and Bruce Hayne – that are the most chronic offenders – were key members of the slate that approved this bylaw. They make the rules and then they break the rules."
"The illegally placed signs are currently being removed by city Bylaws and Engineering crews who clearly have better things to do – like their jobs," the Safe Surrey Coalition said in a statement.
"The removed signs are being taken to the city's operations centre where campaign crews are waiting to pay a $25 penalty per sign to get them back and then they go put them somewhere else. One has to wonder why those campaign crews are not out picking up their own signs that are still illegally standing at other intersections.
"This game of cheating and 'catch me if you can' is setting a very poor example. Tom Gill and Bruce Hayne should be embarrassed enough that they themselves go out and help their campaign crews remove their remaining illegal signs. They do have their picture on them after all."
McCallum said: "Our next council must be role models for our youth. This current situation is sending the wrong message. It is not right to ignore the rules, see what you can get away with, and then pay your way out when you get caught. That's the behaviour we need to get rid of – not to mention the signs."
FOLLOWING McCallum's press release, Surrey First mayoral candidate Tom Gill later in the day issued his statement calling for a change in regulations before the next Surrey civic election.
"The time has come to limit signs to private property," said Gill. "Monitoring the placement of these signs put a tremendous stress on our by-law officers and sometimes act as hazards for drivers. Political campaigns, by their nature are driven by volunteers and that can often lead to compliance issues. I would strongly support banning election signs on public property in the next election."